This Friday we will finally close on our latest Satchwell in Cypress Creek. The Satchwell is one of our most popular models, we've built five in the past two years. It's a great layout for families or folks looking to upgrade for a bit more floor space.
This particular house took longer than usual to build. My dad was in Italy for three weeks in August (I joined for ten days), and there were a couple custom features the buyers picked out that took longer to add than our standard features: thicker granite countertops in the kitchen, and tile throughout the entire house.
The granite is fantasy brown, which is an incredibly popular choice, and a personal favorite of ours.  It's a bit of a process to create thicker pieces like what went into this kitchen, but it turned out to be worth the wait.  We'd like to thank Trim Solutions for templating and installing the granite, I can't imagine moving such heavy pieces!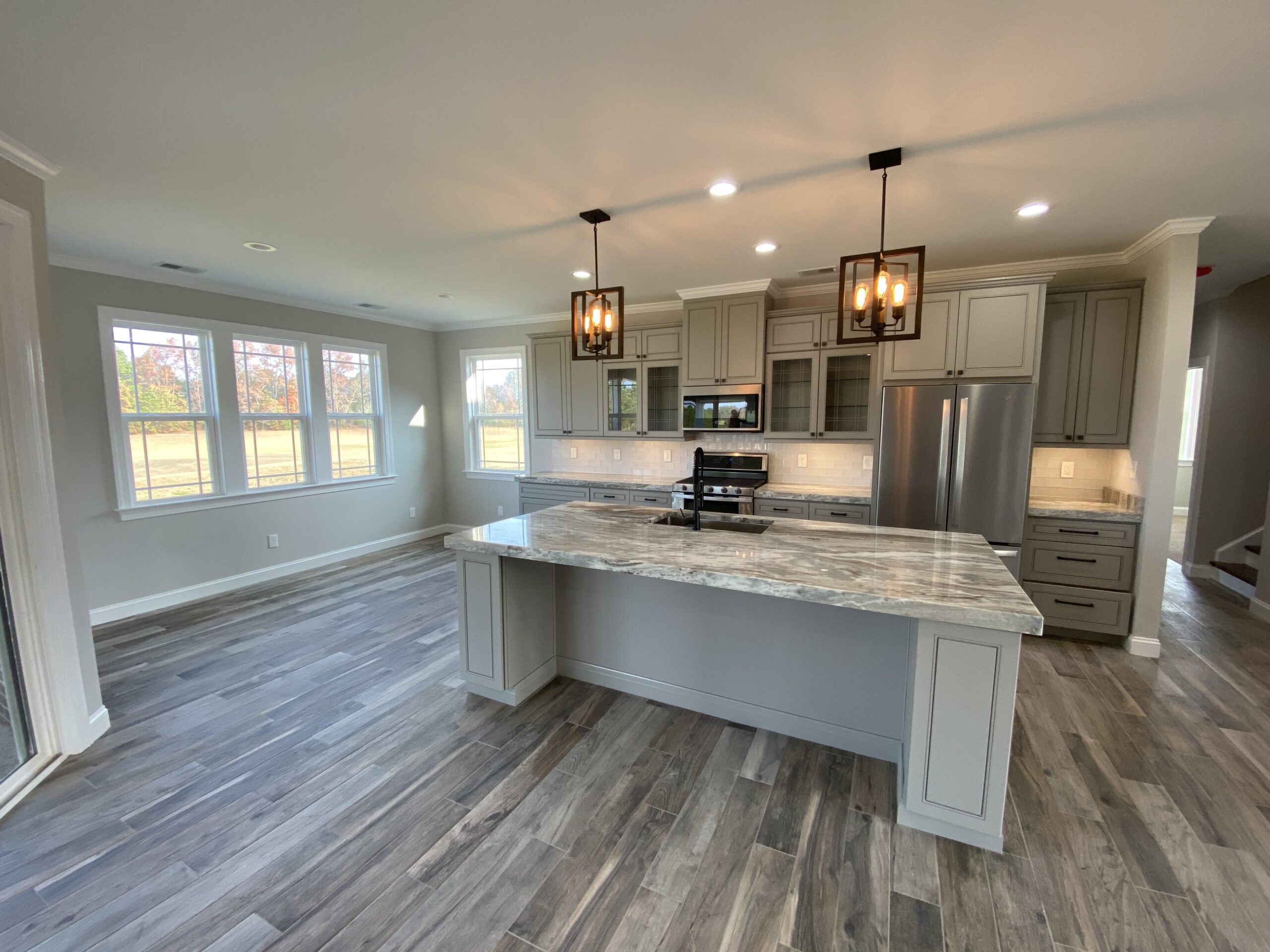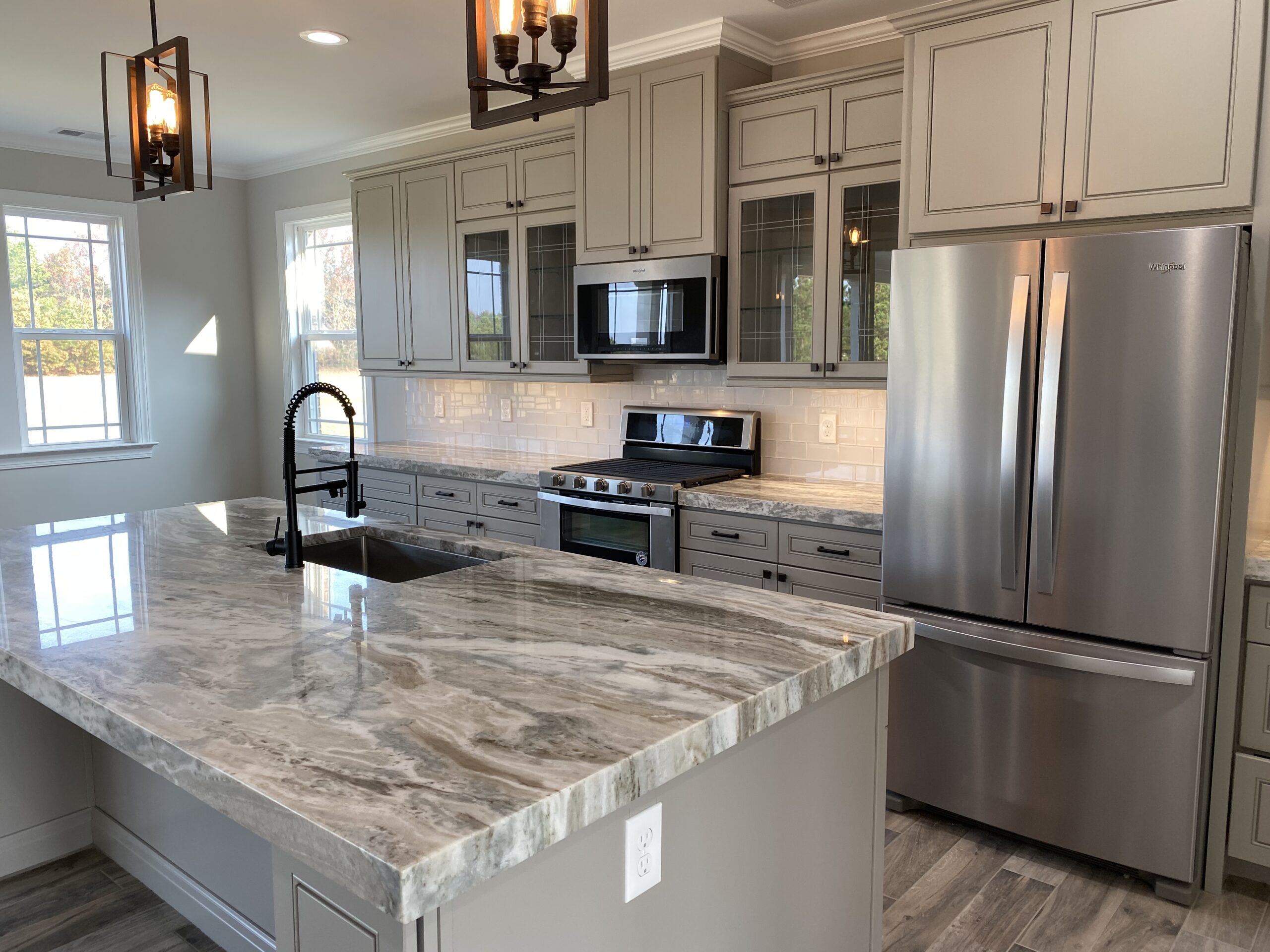 The tile was also a challenge, as it usually only takes workers a day or two to install hardwood or vinyl flooring and we can move on to the next step of construction.  Tile, on the other hand, takes much more time and skill to lay properly, and then there's the matter of letting the mud dry, then grouting, then letting the grout dry, and the entire time you can't really walk on it at all… you get the idea.  It was also an entire house of tile.  It took me three trips in my little 18 year old Silverado to pick it up from Floor & Decor in Hampton.  
We have Paul and Trevor of Straight Line Tile to thank for doing such a beautiful job.  The owners requested two different colors together, 1/3 greige and 2/3 ash, and the guys were able to perfectly mix them throughout the process.  The colors flow so well you wouldn't even notice!  But it also adds some extra visual interest to the floor.  Straight Line has been laying tile for us for years, and they got the whole house done in about a week.  They also did the showers.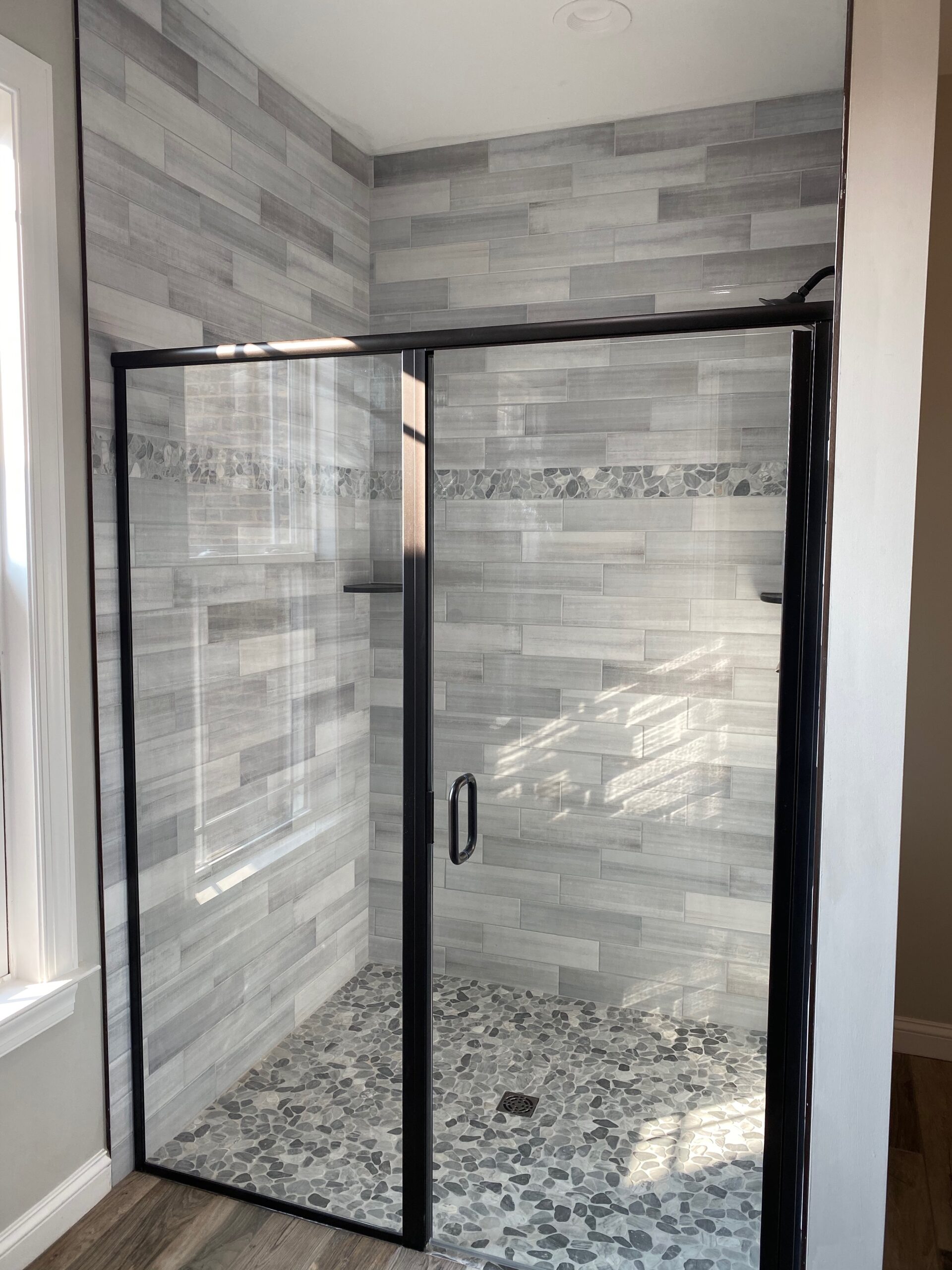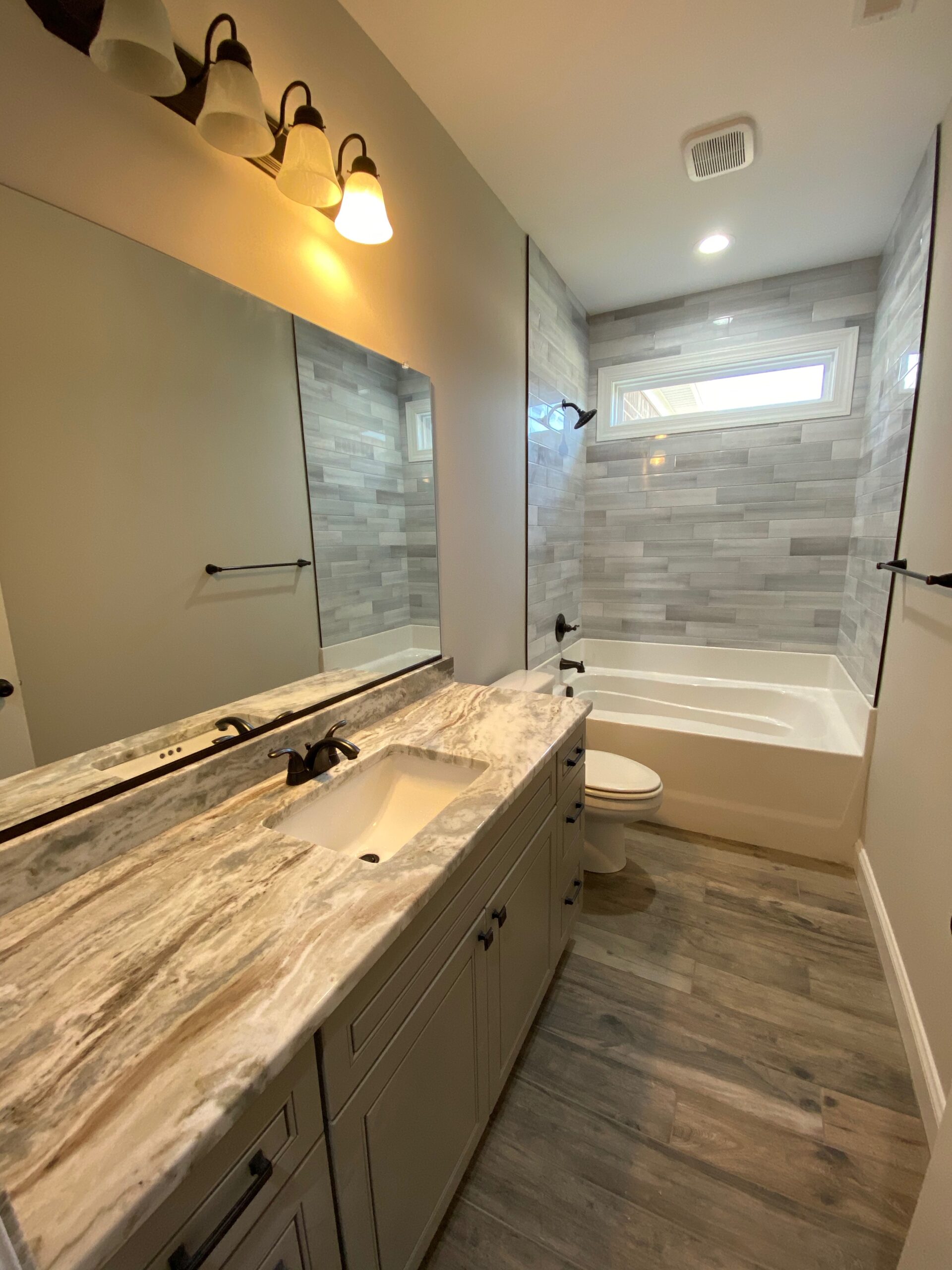 Other Product/Feature Details:
The paint color in the entire house is called On The Rocks from Sherwin Williams, and the cabinets are a color called greige from J&K Cabinetry.  My dad went down to their showroom and factory in Raleigh twice (once to pick them up, once to get some more pieces), and I went down once to get an additional piece.
The kitchen backsplash and fireplace border are both Pure Snow White Glass Tile from Floor & Decor. I'm a huge fan of glass tile and I got to learn first hand just how careful you have to be when cutting it.  Once again though, it was worth the extra effort!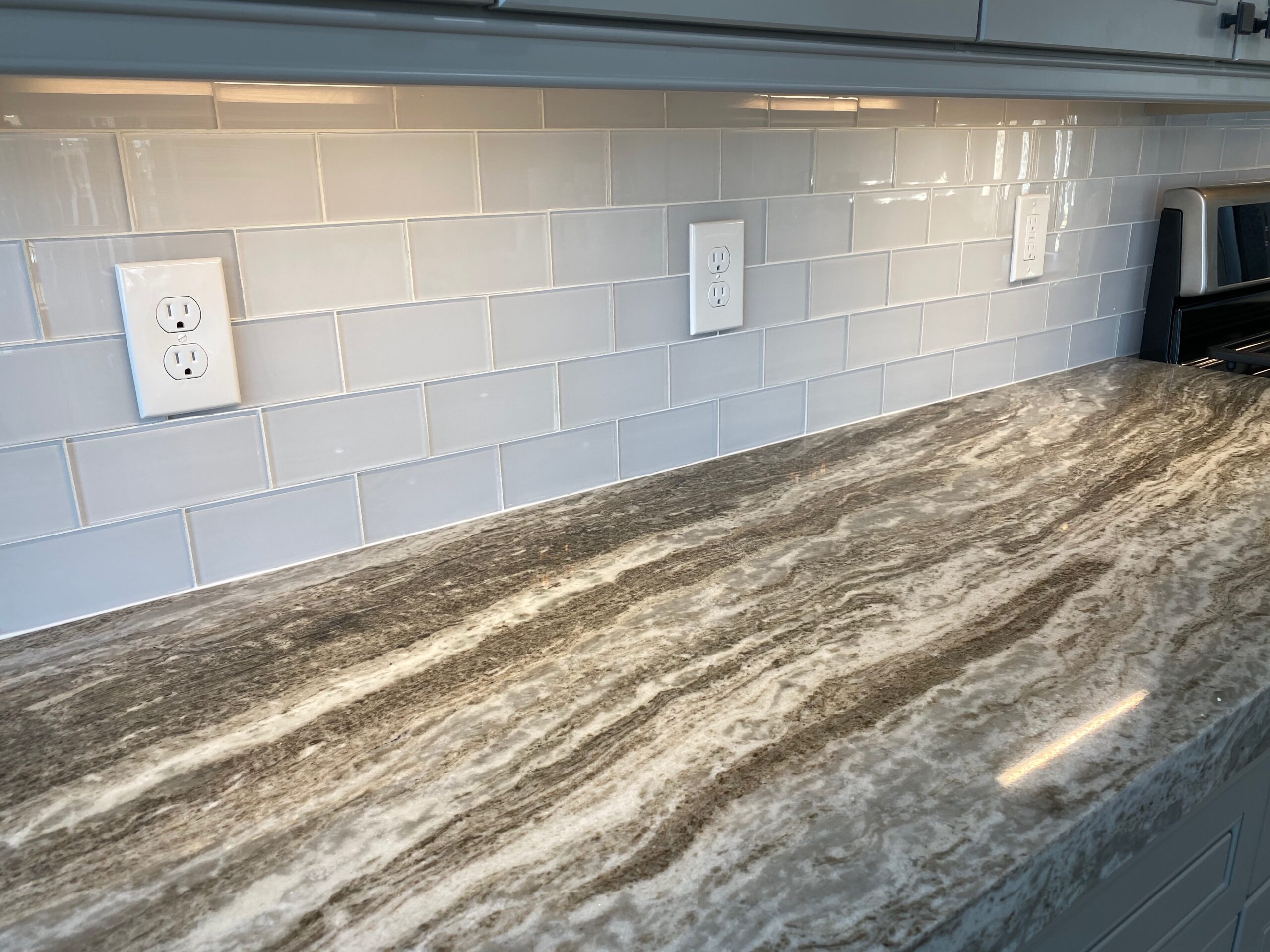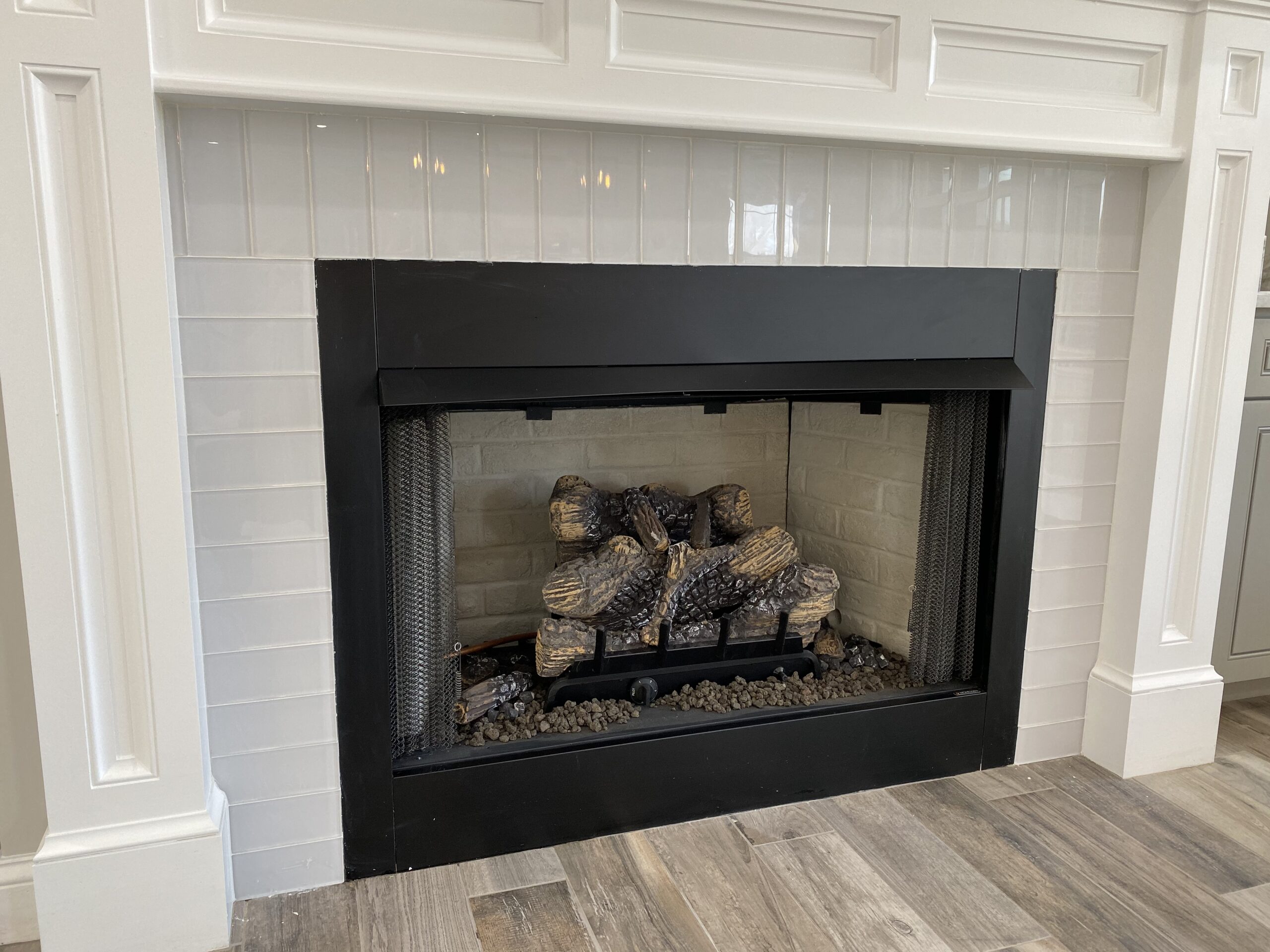 Although it's always satisfying to finish up a house, I'll miss working on this one.  I always remark on the fact that I spend so much time inside and outside a house working on it and then one day it's done and I just never go back, and the fact that we spent longer on this particular house only makes it worse! (Or better?) I'll miss you, house!
As always, if you are interested in this model feel free to contact us, or check out our Facebook (although you probably came here from Facebook) for lots more photos of the process as well as more frequent general updates. 
More photos of Satchwells as well as a viewable plan are available here.
Happy Holidays!
-Natalie